Hanuman ji ki Aarti lyrics in Hindi English: Hanuman ji aarti like chalisa has such divine power that remove any kind problem or any thing you are scared. It gives a great peace by chanting it. In aarti the Ram ji's task done by hanuman ji are described. We can bless our near and dear once, friends by sending the Hanuman ji aarti picture or share images with Facebook whatsapp status msg SMS wallpaper hd photo messages pics pictures fb quotes.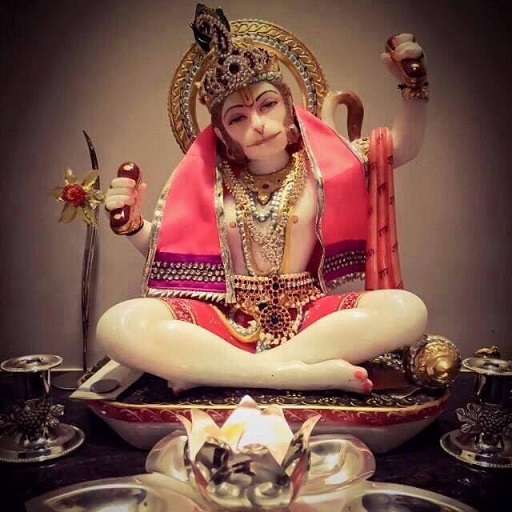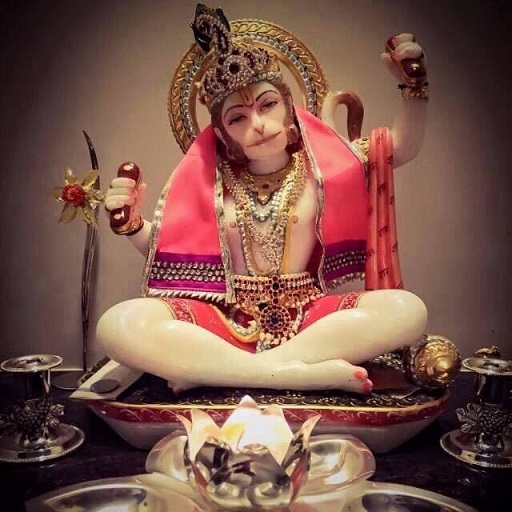 Hanuman ji ki Aarti lyrics in Hindi – हनुमान आरती
आरती कीजै हनुमान लला की। दुष्ट दलन रघुनाथ कला की ॥
जाके बल से गिरिवर काँपै। रोग-दोष जाके निकट न झाँपै ॥
अंजनी पुत्र महा बलदाई। संतन के प्रभु सदा सहाई ॥
दे बीरा रघुनाथ पठाए। लंका जारि सिया सुधि लाए ॥
लंका सो कोट समुद्र सी खाई। जात पवनसुत बार न लाई ॥
लंका जारि असुर संहारे। सियारामजी के काज सँवारे ॥
लक्ष्मण मूर्छित पड़े सकारे। आनि सजीवन प्रान उबारे ॥
पैठि पाताल तोरि जम-कारे। अहिरावन की भुजा उखारे ॥
बाएं भुजा असुर दल मारे। दहिने भुजा संतजन तारे ॥
सुर नर मुनि आरती उतारें। जै जै जै हनुमान उचारें ॥
कंचन थार कपूर लौ छाई। आरति करत अंजना माई ॥
जो हनुमानजी की आरति गावै। बसि बैकुण्ठ परम पद पावै ॥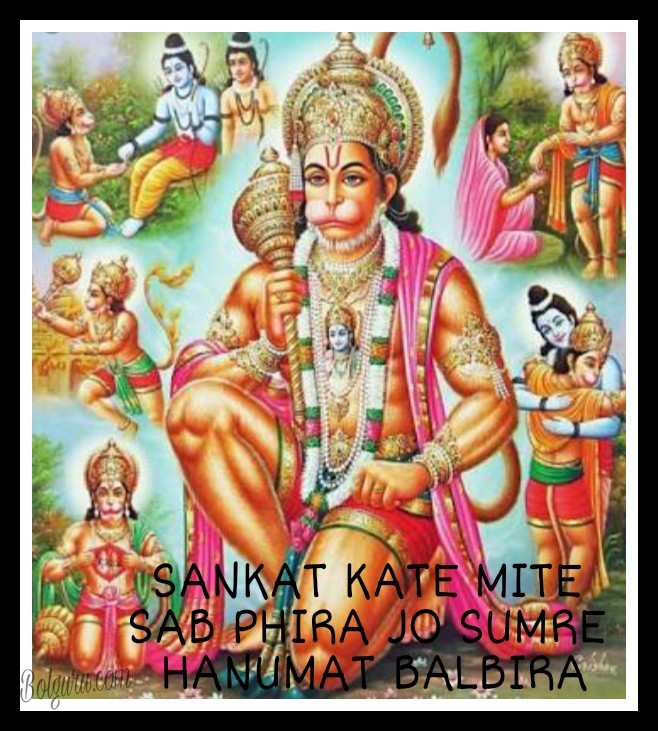 Hanuman ji ki Aarti lyrics in English
Aarti keeje hanuman lalaa ki, dhust dalan raghunath kalaa ki.
Jake bal se girivar kam̐pai. Rog – dos jake nikaṭ na jhampai.
Anjani putra maha baladai. Santan ke prabhu sada sahai.
De bira raghunath paṭha'e. Lanka jari siya sudhi la'e.
Lanka so koṭ samudra si kha'i. Jat pavanasuta bar na la'i.
Lanka jari asura sanhare. Siyaramaji ke kaj sam̐vare.
Lakṣmaṇ murchita paṛe sakare. Ani sajivan pran ubare.
Paiṭhi patala tori jama – kare. Ahiravan ki bhuja ukhare.
Ba'eṁ bhuj asura dal mare. Dahine bhuja santajan tare.
Sura nara muni arati utareṁ. Jai jai jai hanumana ucareṁ.
Kan̄cana thara kapura lau cha'i. Arati karata an̄jana ma'i.
Jo hanumanaji ki arati gavai. Basi baikuṇṭha parama pada pavai.